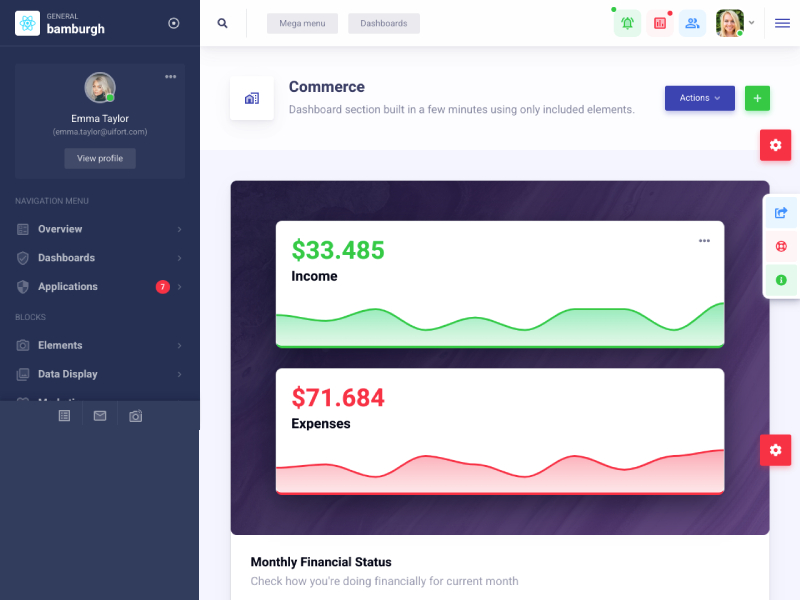 Bamburgh React Material Admin Template is the ideal solution for rapidly developing contemporary projects, with 4 distinct application interfaces included. By utilizing the included Marketing components, you can not only create applications but also presentation websites with the same look and feel as the app you are building.
Each application comes with its own documentation, which includes code snippets for all sections that can be found in the live previews. Bamburgh React Admin Dashboard with Material-UI PRO has specific components designed for commerce, monitoring, analytics, or statistics, covering niches across a range of industries.
Demo Dashboard
The frontend of this template is powered by Material-UI, the most popular solution for building React UI components. It includes a fully customized set of components and elements built on top of Material-UI. The package includes everything required to build your next project, such as marketing sections, data display sections, widgets, form controls, and more. Additionally, if there is a component you require that is not included, you can easily create it using the included utilities and base elements.
Bamburgh React Admin Dashboard with Material-UI PRO features over 500 custom sections, all built for Facebook's React UI framework and styled by UiFort with the popular Bamburgh UI Design System's look and feel. These modern and responsive React components make it a comprehensive and versatile solution for building dynamic web applications.